13 Sept 2017  TEAMROCK.com
...Jason And The Scorchers - Lost And Found (EMI America, 1985)
Nashville, early 80s, and country music has reached a nadir of mainstream ambivalence that ol' Hank and Mr Cash would have sneered at from spitting distance. Illinois native Jason Ringenberg would be the man to change the way that country music would be heard to this present day, influencing the alt.country movement in the 1990s and establishing a pounding drive and punk spirit to a genre of music that had long-since misplaced any concept of danger.
Produced by Fervor's Terry Manning, this whip-cracking, foot-stomping hootenanny opens up with the frantic Last Time Aroundbefore hurtling into one of rock'n'roll's top five most thrilling moments, the mean-spirited White Lies. Written by drummer Perry Baggs, this song lures the listener into some dank, beer-drenched barn dance where you can feel the crowd and smell the cowshit.
Jason And The Scorchers' name should be seen as an essential section in the evolution of rock'n'roll. They made it cool to be you. Yee, and indeed haw...
on OCTOBER 13, 2016

At The Kings Of Leon concert in Nashville October 6 celebrating the release of their new "Walls" record, the Kings of Leon showed a video of Nashville artists they admire. Among images of legends like Elvis and Patsy Cline they showed a Jason & The Scorchers circa 1985 image.  Thank you Kings Of Leon for including JATS in this.
By Josh Jackson  |  August 4, 2016  |  3:30pm

https://www.pastemagazine.com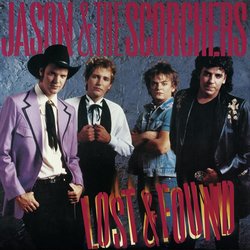 34. Jason & the Scorchers – Lost & Found(1985) 
Years before the term "alt-country" was conceived, something a little uglier and grimier was festering in Nashville. Jason & The Scorchers—led by explosive frontman Jason Ringenberg—released a couple of EPs before dropping their best record Lost & Found in 1985. It's a punk rock album at heart, but guitarist Warner Hodges has plenty of twangy licks up his sleeve. Songs like "Lost Highway" and "I Really Don't Want To Know" showed off Ringenberg's wry sense of humor, while also confounding audiences for being too country for some and too punk rock for others. The band never found any major success early on, however, three decades later Lost & Found proves that Jason & The Scorchers were light years ahead of their time.—Mark Lore
 
T
he Guardian - 12 April 2016
 Standing on the edge of greatness … Jason and the Scorchers, 1984. Photograph: Paul Natkin/WireImage

Michael Hann

@michaelahann
 
Tuesday 12 April 2016 06.00 EDTLast modified on Tuesday 12 April 201606.01 EDT
There are only ever a handful of names that get mentioned when the idea of "the greatest rock'n'roll band in the world" is raised. Actually, there have been dozens of greatest rock'n'roll bands in the world, but most of them never get recognised – because they were only ever the greatest band for a week, or a month, a summer. They were the greatest band at some point where everything aligned for them – they had a great record out, their shows were on fire, the crowds were going wild. Everything they touched, they torched. A very few – through their own cunning, the machinations of their label and management, the support of radio – are able to seize that moment, to capture that momentum, and move on to greater things, to platinum records and stadium shows. Most, though, for whatever reason, will have only the brief moment of transcendence, before they slip back into the ranks. The shows will get smaller again, the records less inspired, the fire will burn less fiercely.
In summer 1985, Jason and the Scorchers were the greatest rock'n'roll band in the world. On 4 July that year, I saw them headlining an Independence Day bill at the Electric Ballroom in London, above the Blasters and the Textones. I was in the front row, and even the distance of 31 years has done nothing to dull the memory of how combustible they were. Singer Jason Ringenberg whirled around the stage in a frock coat and cowboy hat, his legs jerking behind him as if he were getting electric shocks from the mic stand; guitarist Warner Hodges wheeled in circles, without ever missing a power chord; bassist Jeff Johnson, in pressed shirt andbolo tie, looked like a Victorian riverboat gambler by way of the New York Dolls. The mini Confederate flag flying from drummer Perry Baggs's spare rack top slot didn't raise the #problematic signals it might now.

Ringenberg was a pig-farmer's son from Illinois who moved to Nashville in 1981, with the dream of forming a high-energy roots band. He didn't realise rock'n'roll didn't exist in Music City, but somehow stumbled across the other three, who brought the punk counterbalance to his desire to make country music. Hodges, whose parents were country musicians, had already had his fill of the twang – "He always said that country music was shoved down his throat, and he hated it," Ringenberg told writer Clinton Heylin – but the tension between the guitarist's desire to sound like AC/DC and the singer's love of Hank Williams meant that, for the first few years of their career at least, Jason and the Scorchers made music that sounded like no one else, a berserk, overdriven racket, in which country covers and Ringenberg's originals were played with Never Mind the Bollocks power by the other three.
The Scorchers' vinyl debut came in early 1982, just a few weeks after their first show, with the Reckless Country Soul EP, featuring three Ringenberg originals and covers of Hank Williams and Jimmie Rodgers. They earned a fearsome reputation opening shows for whichever punk bands visited Nashville ("Because we were so explosive, it had such an energy and we attacked the stage so fiercely, they allowed the twang," Ringenberg said of the punks' attitude to the Scorchers), and became associates of the similarly upwardly mobile REM. In 1984, a new EP, Fervor (a cleaner and better recording, restating the premise of the band), featured vocal appearances from and a co-write with Michael Stipe. After they signed to EMI, a staggeringly exciting version of Bob Dylan's Absolutely Sweet Marie was added, though it was only recorded because Ringenberg told Hodges it was an original; the guitarist wouldn't have recorded it otherwise.
That summer of 85 high-water mark came off the back of the band's full-length debut, Lost and Found, where Hodges' guitars – given a modern studio and bigger production values – were finally allowed right off the leash, without suffocating Ringenberg in the process. Unlike most of their "cowpunk" peers, the Scorchers didn't wrap their take on country in irony; Ringenberg's love of his forefathers was palpable, and the rest of the band were so steeped in the music that they made Lost and Found sound as if it was always intended as an 180mph rush of speed.
As you'll already have guessed, the moment of greatness was brief. The Scorchers became less Ringenberg's band than Hodges', as EMI ushered them towards big hair and big makeup, to go with the big guitars. If the Pistols at the Opry worked, Poison at the Opry most certainly didn't. Their next album, 1986's Still Standing, might have been better retitled Going Backwards. One more record, Thunder and Fire, and the Scorchers were no more. They reformed in the 90s, and still play live periodically, but the moment was gone – as fun as they might be, they would never again be the greatest rock'n'roll band in the world.



That 4 July, aged 15, I missed my last train home. I had to wait for the post train, then walk home from Slough station. I finally got back at around 5.30am – on a school night. My mother was still up, demanding to know why I hadn't called. I said I hadn't wanted to wake her, because it was midnight before I knew I'd missed the last train. No excuses, she said. She'd sent my dad up to Paddington to look for me; he got home just before he had to get up for work. It was the best part of four months before I was allowed to go to another show. Up at the Hammersmith Palais that night was another American band who were being called the "best in the world"; it was another desperate, thrilling show, albeit in a very different way to the Scorchers. But unlike Ringenberg et al, REM were able to turn their greatness into something that lasted. Maybe the Scorchers just weren't built to last; I'm so glad I saw them when they were burning.  
 
JASON AND THE SCORCHERS LIVE
TEAM UP WITH BOWEN MCCAULEY DANCE
The world premiere of Victory Road takes place on April 10 and 11, 2015 at The John F. Kennedy Center for the Performing Arts Terrace Theater. The band joins BMD onstage for an electrifying performance about a boy who leaves his hometown with the dream of becoming a music star in the 1980s.
Featuring music from their deep collection, Lucy Bowen McCauley unites with Jason and The Scorchers to transform their songs into movement – a journey of hope, tragedy, and triumph set to the sounds of country, punk rock, hard rock, and country rock.
"The combination of earthy, lyric-driven, guitar-based live, country rock and the elegant movements of the Bowen McCauley dancers were irresistible." – Buzz McClain, Senior Editor at George Mason University.
"Throughout my career I have always hoped that the music of Jason and The Scorchers would be set to dance. Our music is rooted in old Sothern folk, Celtic melodies, and first-wave punk rock, all of which are dance based. When Lucy approached me with the idea, it was an instant no brainer to jump aboard the train. In fact, it is what I have always wanted to see happen" says Ringenberg.
Lucy adds, "I have loved Jason's music for many years. It is a wonderful honor to choreograph to his stunning songs and to work with such a disarmingly humble genius."
Tickets to the world premiere are now on sale at The Kennedy Center Box Office. Tickets are $40.00 – $45.00 and can be purchased online www.kennedy-center.org or by phone 
800-444-1324 FREE.
Additionally, BMD reserves the best seats for our members and supporters. Premium seats are available for purchase directly through BMD. Buy tickets now.
On April 11, the evening continues with BMD's annual Soireé at The Kennedy Center's Roof Terrace Restaurant. BMD's signature event invites guests to eat, drink, and be merry following the Victory Road premiere. The celebration features an irresistible silent auction and the opportunity to dance and mingle with the cast. Enjoy a special evening with Nashville's finest!  For more information, contact dance@bmdc.org
Individual Soireé Reservations are $150.00 (price includes premium performance seating). Buy tickets now. For questions or to make reservations by phone, contact 
(703) 910-5175.
Following the weekend premiere, BMD and Jason and The Scorchers will take Victory Road, quite literally, "on the road" for a tour through Southern Virginia. Join us on our adventure and see us perform at the Pro-Art Association's Performing Arts Center on April 19 at 3:00 p.m. at JW Adams Combined School in Pound, Va. For updates on the tour, visit www.bmdc.org/upcoming.
01 November 2014:
BBC 4 in the UK played the old JATS B side "Greetings from Nashville" to open their show about the state of music in Nashville.
04 November 2014 - Lots of News...Read on and on Ya'll!
We are pleased to announce the release of the
30 YEAR Birthday Bash DVD!
Available NOW
!
They have arrived and are available for shipping!
(manufactured for ALL Regions, approx 2.5 hours)
 I want to apologize to all you wonderful folks and to the band,
I take full responsibility for the delay and botching the DVD's release,
won't bore you with the particulars, 
please accept my sincerest apologies.
As ALWAYS we all so much appreciate your support and love through the years,
THANK YOU!
Happy Autumn and Big Warm Hugs!
Deb
And there's More.....................................................
Hey Ho Ho Ho Let's Go!
Christmas comes early today with the official release of
Christmas On The Farm with...Farmer Jason
Co-produced by Grammy nominated  Peter Cooper and Thomm Jutz, Christmas On The Farm contains twelve festive family favorites, both old and new. Six songs are original Farmer Jason compositions that conceptually deal with the farming connections to Christmas. The six holiday standards also share the farming and Christmas connections on songs like Away in a Manger. The CD package includes a full-color 12 page booklet.
"Exquisite musicianship, sparkling original songs, Christmas classics and Farmer Jason's unerring sense of fun make Christmas On The Farm a warm, welcome and brand new family holiday tradition." -
Peter Cooper (USA TODAY, The Tennessean)
A
vailable at the new
Farmer Jason
website and
CD Baby
. The download is available on
Amazon, ITunes, CD Baby
and all major download sites. 
And More.....................................................
October release of Warner's new solo CD - Gunslinger
Alright, lots happening, I'll do this to the point...October release of Warner's new solo CD -
Gunslinger -
Get it here
!
and tour dates
HERE
www.warnerehodges.com
https://www.facebook.com/warnerhodges
2014 -
The Bluefields'
3rd release -
Under High Cotton 
-
Get it here!
Stay with me please...............................
Don't forget to check out Al and Stacie, they've been tirelessly on the road and are now writing a new album...
http://www.staciecollins.com/
 and 
https://www.facebook.com/STACIECOLLINSROCKS
***********************************
And 2014 Pontus' new blues album
Wreck of Blues
,
get it here
!
http://www.bonafiderocks.com/  
https://www.facebook.com/Bonafiderocks
don't stop yet.............................................
Bowen McCauley Dance Teams up with Jason and The Scorchers for the
World Premiere of Victory Road
August 1, 2014
– Arlington, VA – Bowen McCauley Dance (BMD) teams up with country-punk rock music legends Jason and The Scorchers, credited by Rolling Stone Magazine for "rewriting the history of rock-n-roll in the South," to create Victory Road.
 
The world premiere of Victory Road takes place on April 10 and 11, 2015 at The John F. Kennedy Center for the Performing Arts. The band joins BMD onstage for an electrifying performance about a boy who leaves his hometown with the dream of becoming a music star in the 1980s.
 
Featuring the songs of Jason Ringenberg, Lucy Bowen McCauley unites with Jason and The Scorchers for an "unusual path to 'Victory' (The Washington Post)." McCauley transforms his songs into movement – a journey of hope, tragedy, and triumph set to the sounds of Appalachian folk, gospel, country, punk rock, hard rock, and country rock.
 
"The combination of earthy, lyric-driven, guitar-based live, country rock and the elegant movements of the Bowen McCauley dancers were irresistible." – Buzz McClain, Senior Editor at George Mason University.
 
"Throughout my career I have always hoped that the music of Jason and The Scorchers would be set to dance. Our music is rooted in old Sothern folk, Celtic melodies, and first-wave punk rock, all of which are dance based. When Lucy approached me with the idea, it was an instant no brainer to jump aboard the train. In fact, it is what I have always wanted to see happen" says Ringenberg. 
 
Lucy adds, "I have loved Jason's music for more than 30-years. It is a wonderful honor to choreograph to his stunning songs and to work with such a disarmingly humble genius."
 
Read more at: 

http://www.bmdc.org/victory-road




Alright! ya made it to the end of 04 November 2014 News!!!
Much Appreciated



The Kennedy Center performance with Bowen McCauley Dance Company went fantastic, even if the second show got cancelled due to the snow. The BMDC is a wonderful dance company. They did a fantastic job choreographing and performi

ng Far Behind. Jason and Warner sang and played while they did their thing. What an experience, the Kennedy Center no less!  

It was a magic experience.  Please see video at:   http://vimeo.com/bmdc/farbehind
***************************