12 April 2016 - THE GUARDIAN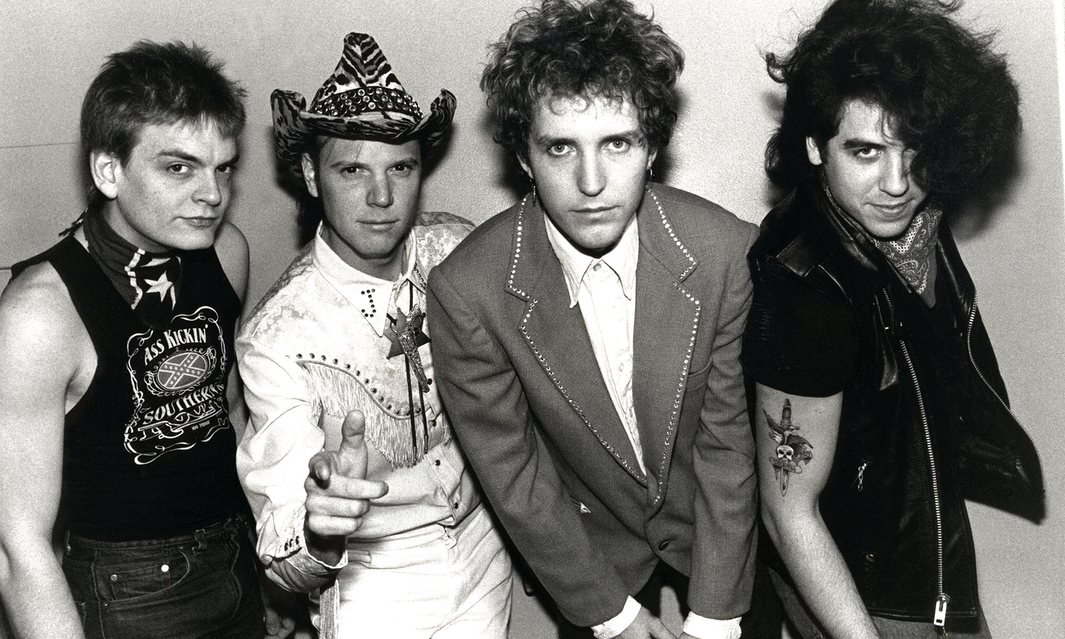 Standing on the edge of greatness … Jason and the Scorchers, 1984. Photograph: Paul Natkin/WireImage

Michael Hann

There are only ever a handful of names that get mentioned when the idea of "the greatest rock'n'roll band in the world" is raised. Actually, there have been dozens of greatest rock'n'roll bands in the world, but most of them never get recognised – because they were only ever the greatest band for a week, or a month, a summer. They were the greatest band at some point where everything aligned for them – they had a great record out, their shows were on fire, the crowds were going wild. Everything they touched, they torched. A very few – through their own cunning, the machinations of their label and management, the support of radio – are able to seize that moment, to capture that momentum, and move on to greater things, to platinum records and stadium shows. Most, though, for whatever reason, will have only the brief moment of transcendence, before they slip back into the ranks. The shows will get smaller again, the records less inspired, the fire will burn less fiercely.
In summer 1985, Jason and the Scorchers were the greatest rock'n'roll band in the world. On 4 July that year, I saw them headlining an Independence Day bill at the Electric Ballroom in London, above the Blasters and the Textones. I was in the front row, and even the distance of 31 years has done nothing to dull the memory of how combustible they were. Singer Jason Ringenberg whirled around the stage in a frock coat and cowboy hat, his legs jerking behind him as if he were getting electric shocks from the mic stand; guitarist Warner Hodges wheeled in circles, without ever missing a power chord; bassist Jeff Johnson, in pressed shirt andbolo tie, looked like a Victorian riverboat gambler by way of the New York Dolls. The mini Confederate flag flying from drummer Perry Baggs's spare rack top slot didn't raise the #problematic signals it might now.Read More>>>
Check your local listings & here: 
www.bluegrassunderground.com/pbs/
Feed Schedule for Season VI of Bluegrass Underground on PBS:
601 Dave Rawlings Machine
602 The Suffers
603 Frank Solivan & Dirty Kitchen
604 Hurray for the Riff Raff
605 Mac McAnally
606 JJ Grey & MoFro
607 The Cox Family
608 The Lone Bellow 
609 Drivin' N Cryin'
610 Sierra Hull
611 St. Paul & the Broken Bones
612 Jason & The Scorchers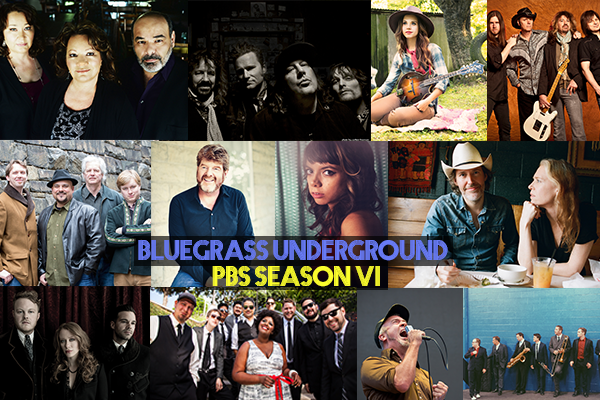 JASON and the SCORCHERS
Live Performance Taping
April 1-3, 2016
Bluegrass Underground Sets Season VI
(held 333 feet below the Cumberland Plateau in the world-famous Volcano Room, the jewel in the crown of Cumberland Caverns. How cool!)
Bluegrass Underground Sets Season VI
Nine-time Emmy-winning music show films new series
(Bonus - Warner playing with Drivin' N Cryin')

Award-winning Americana TV series Bluegrass Underground will head back to Cumberland Caverns April 1-3 to shoot its sixth season for PBS. Dubbed "Austin City Limits-meets-Nova," the roots-music showcase has featured many of the premier artists in bluegrass, country, blues, folk and roots-rock, including The Civil Wars, Jason Isbell, Old Crow Medicine Show, Vince Gill and the Timejumpers, Leon Russell, Hot Rize, Amos Lee, Bela Fleck & Abigail Washburn, Lucinda Williams and Railroad Earth.
Shot amid the unparalleled beauty of Cumberland Caverns' Volcano Room, Bluegrass Underground Season VI will feature another eclectic mix of certified icons, legends-in-the-making and Americana stars of tomorrow. Artists include the GRAMMY-winning bluegrass band The Cox Family, GRAMMY-nominated contemporary bluegrass masters Frank Solivan & Dirty Kitchen, iconic singer/songwriter/musician Mac McAnally,  cowpunk pioneers Jason & The Scorchers, beloved Southern rock band Drivin' N Cryin', Americana kingpins The Dave Rawlings Machine, as well as groundbreaking newer artists like mandolin virtuoso Sierra Hull, R&B dynamos St. Paul & The Broken Bones, Brooklyn's majestic Lone Bellow, New Orleans rabble-rousers Hurray For the Riff Raff, dancefloor-filling jam band JJ Grey & Mofro and the rootsy soul of The Suffers.
It all adds up to the world's biggest and best subterranean music festival, "The Greatest Show Under Earth", held 333 feet below the Cumberland Plateau in the world-famous Volcano Room, the jewel in the crown of Cumberland Caverns, an internationally-known tourist destination located in McMinnville, Tenn.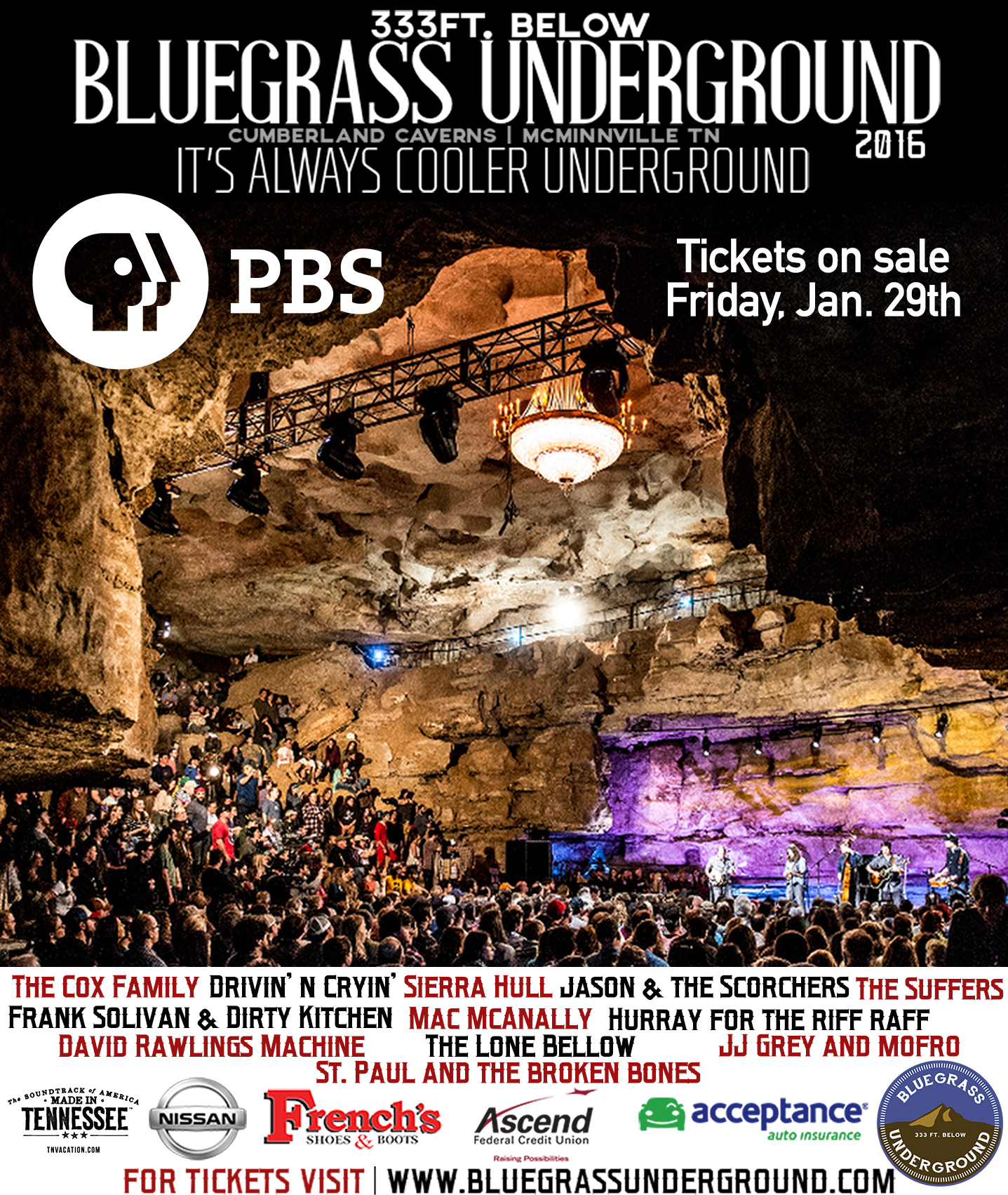 Jason & The Scorchers - This year, Jason Ringenberg and his bandmates will celebrate 35 years of smashing down the walls between country and rock, but they sound like they're just getting started.
Drivin' N Cryin' - Frontman Kevin Kinney says DNC "sounds like your record collection" and, with a show that goes from intimate acoustic folk to sprawling arena rock, it's one really, really, really good record collection.
 
Bluegrass Underground began in August, 2008, when Nashville-based producer Todd Mayo held his first event at Cumberland Caverns' Volcano Room, presenting the original SteelDrivers, featuring Chris Stapleton on lead vocals. In 2011, after producing dozens of concerts there, Mayo partnered with filmmaker Todd Jarrell, forming Todd Squared to produce Bluegrass Underground as a weekly half-hour show for PBS. WCTE, based in Cookeville, Tenn., became the presenting PBS station. Since then, Bluegrass Underground has won a total of nine Emmy Awards and is nominated  for five more at the 2016 Midsouth Regional Emmy Awards, ceremonies to be held Feb. 27 at the Country Music Hall of Fame in Nashville.
What an amazing time we had at the Kennedy Center with BMDC!

Did Ya Miss It?  Another Chance to join us, 
Pro-Art Association's Performing Arts Center on April 19 at 3:00 p.m.
JW Adams Combined School in Pound, Va. 

 VICTORY ROAD
Jason & the Scorchers live meet Bowen McCauley Dance

Let us tell you a story…
 
13 Sept 2017  TEAMROCK.com
...Jason And The Scorchers - Lost And Found (EMI America, 1985)
Nashville, early 80s, and country music has reached a nadir of mainstream ambivalence that ol' Hank and Mr Cash would have sneered at from spitting distance. Illinois native Jason Ringenberg would be the man to change the way that country music would be heard to this present day, influencing the alt.country movement in the 1990s and establishing a pounding drive and punk spirit to a genre of music that had long-since misplaced any concept of danger.
Produced by Fervor's Terry Manning, this whip-cracking, foot-stomping hootenanny opens up with the frantic Last Time Aroundbefore hurtling into one of rock'n'roll's top five most thrilling moments, the mean-spirited White Lies. Written by drummer Perry Baggs, this song lures the listener into some dank, beer-drenched barn dance where you can feel the crowd and smell the cowshit.
Jason And The Scorchers' name should be seen as an essential section in the evolution of rock'n'roll. They made it cool to be you. Yee, and indeed haw...